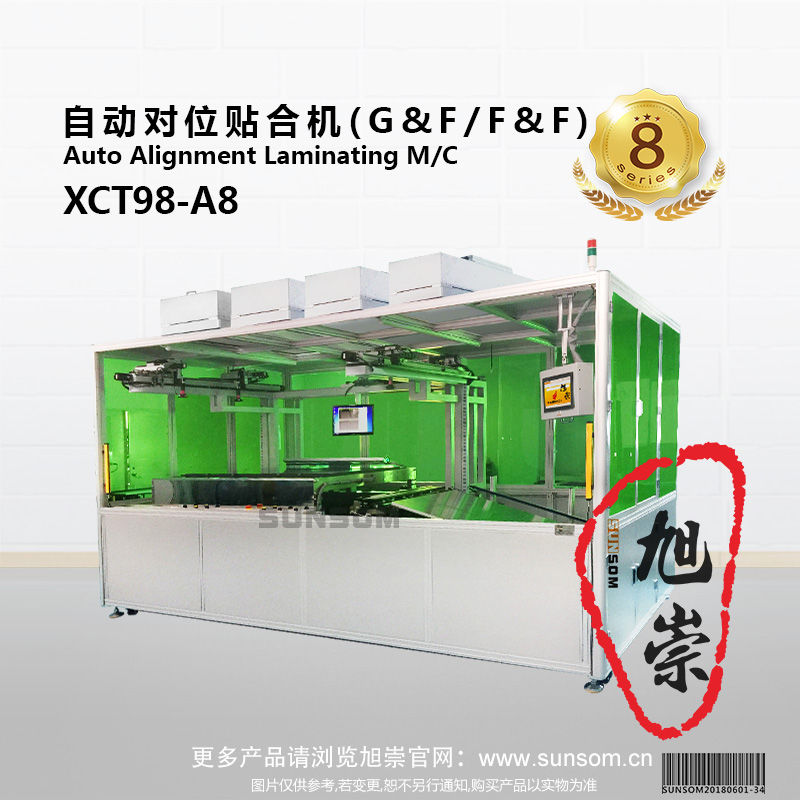 Automatic padding machine
Model:

XCT98-A8

Use of equipment:

The machine is used in laminating process of SOFT & SOFT, SOFT & RIGID、such as lamination of LCD PANEL、SENSOR GLASS、COVER LENS and OCA、 POLARIZER、also can be used for laminating OCA & SENSOR FILM
◆Starting the machine and reset it.

◆Put LCD PANEL,SENSOR GLASS or COVER LENS onto the rotatable platform.

◆Put POLARIZER/OCA/FILM on laminating roller group, press "vacuum" button.

◆Tear the protecting film manually, press double "start" buttons, platform will photograph and align automatically.

◆After aligning succeed, rotatable platform was locked by plug after overturning,slant plate moves to right under the rotatable platform.

◆After platform moving right in place, the vacuum plate released. Z-axis moves up as well as laminating roller.

◆Laminating group of POLARIZER/OCA/FILM moves right to laminate .

◆Laminating finished, platform go back to origin.